Don't be a guru, be a contributor instead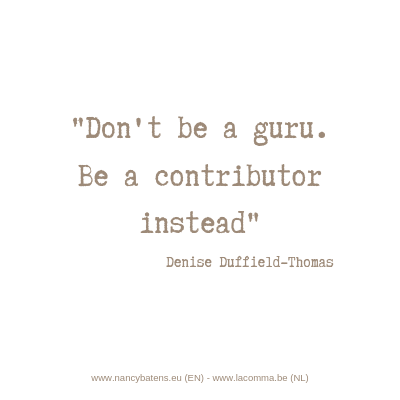 Vorig jaar kreeg ik een opmerking van een 'expert': "Wat maakt dat jij denkt dat je dit kan doen?".
Waarschijnlijk was dit niet slecht bedoeld, maar het effect op mij was groter dan ik had gedacht. Groter dan ik had gewild, eerlijk gezegd… Ik begon een beetje aan mezelf te twijfelen. Wie dacht ik wel dat ik was? Uiteraard, weet ik dat ik goed werk lever, ik krijg die bevestiging ook genoeg, maar toch had ze me geraakt.
Na een periode van zelfonderzoek en praten met een aantal goede vrienden, kwam ik tot een inzicht dat bevestigd werd door Denise Duffield-Thomas. Zij zegt: 'Don't be a guru, be a contributor instead' (='Wees geen goeroe, maar lever je bijdrage'). En ik zou het niet beter kunnen verwoorden.
Ik hoef helemaal geen goeroe te zijn, dat is niet mijn doel.
De perfectionist in mij, wil dingen zo goed mogelijk doen, steeds bijleren, beter worden… Dat wel.
Maar dat betekent niet dat ik dé expert moet zijn.
Wat een druk! Die wil ik helemaal niet.
Trouwens, ik geef al lang genoeg training om te beseffen dat er heel veel theorieën zijn, die elkaar ook vaak tegenspreken.
Wat wil ik wel? Mijn bijdrage leveren: ik leer, probeer uit, evalueer en … als ik vind dat het 'werkt', deel ik deze informatie met iedereen die het wil horen.
Oh ja, soms 'vertaal' ik het ook zodat het praktischer wordt.
Het is heel goed mogelijk dat mijn boodschap jou kan helpen, terwijl de boodschap van iemand anders meer geschikt kan zijn voor je vriendin, of voor je buurvrouw… Misschien kunnen onze beide boodschappen wel helpen: tegelijkertijd of … op verschillende momenten in je leven.
Er is plaats voor ons allemaal! We hoeven niet te concurreren. We kunnen allemaal een bijdrage leveren.
Dus, ik doe verder met leren, uitproberen, en delen wat werkte voor mij, vooral wanneer ik denk dat het ook voor jou zou kunnen werken. Op die manier hoop ik een bijdrage te leveren.
Laat me hieronder weten welke bijdrage jij van mij verwacht. ;-D
https://www.lacomma.be/wp-content/uploads/2019/06/Copy-of-IG-22Dont-be-a-guru.-Be-a-contributor-instead22.png
400
400
Nancy Batens
https://www.lacomma.be/wp-content/uploads/2017/05/Logo-Lacomma.png
Nancy Batens
2019-06-18 17:52:45
2019-06-18 18:08:08
Don't be a guru, be a contributor instead