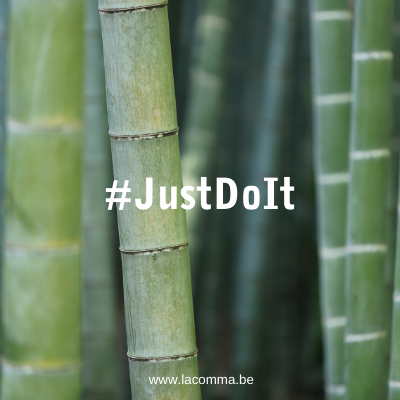 En? Het nieuwe jaar goed ingezet? Deze keer is het niet zo maar een jaar maar … een nieuw decennium. Het voelt toch net een beetje anders, vind ik.
Zelf heb ik dit jaar eerst teruggeblikt op 2019 (je hebt het misschien al gezien op social media) om daarna te bepalen wat ik graag zou willen verwezenlijken in 2020.
En ik heb ook een nieuw 'woord' gekozen. Dit doe ik al een paar jaar. Hoe kom ik op zo'n woord en waarom vind ik het wel handig? Dat leg ik hieronder even uit aan de hand van een paar van mijn 'woorden'.
SLOW
Voor 2016 had ik 'SLOW' gekozen. Na een hectische periode was ik een beetje over mijn grenzen gegaan en … ik wou me zelf eraan herinneren om het wat langzamer aan te doen. SLOW staat uiteraard voor 'traag' maar het is ook een afkorting uit mindfulness: Stoppen – Landen – Openen – Wijze beslissing. En dat was ook een van mijn aspiraties.
Dus… ik zette het op het scherm van mijn gsm (staat er trouwens nog steeds op), een vriendin gaf me de letters in de vorm van magneten en die hangen nog steeds op de koelkast… Omdat ik het telkens 'zag', kon ik op drukke momenten vlugger reageren en 'vertragen'… Het gaat dus vooral om een anker, of een geheugensteun.
En ik moet zeggen dat het werkt: zowel op stressmomenten als op 'verloren momenten' (bv. trein, ergens wachten…) denk ik aan 'SLOW' en pas ik het toe.
SIMPLIFY
'SIMPLIFY' was het woord van vorig jaar. Als trainer ben ik graag volledig en kies ik voor diepgang. Dat is goed. Maar het heeft ook een keerzijde: het idee kan té groot en té gecompliceerd worden. En dan gebeurt er niks meer mee. Daarom wou ik dingen 'vereenvoudigen'. Hoe kan ik dingen doen op een manier die zo eenvoudig mogelijk is voor mijn klanten/cursisten EN voor mij. Want op de een of andere manier werd het altijd ingewikkeld voor mij… Ik denk dat ik hier ook wel vooruitgang geboekt heb en … dit zal een aantal gevolgen hebben voor mijn aanbod.
JUST DO IT
De slogan van dit jaar. Ik weet het: het is niet echt 1 woord maar… dat geeft niet.
De laatste maanden zat ik iets te veel in mijn hoofd. Een aantal beslissingen moesten uitgesteld worden omdat ze afhingen van dingen die niet onder mijn controle waren. Ik geraakte te zeer verstrikt in het 'vereenvoudigen' en … er werd niks meer gedaan. En dat gaf me stress. Dit is natuurlijk niet ideaal voor iemand die stressmanagement geeft… Dus… 'Just do it', kwam heel spontaan. Ik wou terug in actie schieten. Dat heb ik gedaan en … ik voelde me meteen veel beter. Ik ga dus op die manier verder. Voorlopig heb ik nog geen geheugensteuntje. Het wordt alvast een van mijn hashtags (naast #YAHAC) en misschien koop ik wel iets van het bekende sportmerk… ;-D
En weet je wat het leukste is: ook al kies ik een nieuw 'woord': de andere blijven toch op de achtergrond. Ik probeer dus actie te ondernemen op een 'trage' en 'eenvoudige' manier. ;-D
Heb jij een woord of heeft dit je geïnspireerd? Laat het me weten door te antwoorden op deze mail of via de sociale media.
Maak er een mooi jaar van!
https://www.lacomma.be/wp-content/uploads/2020/01/JustDoIt-NL.png
400
400
Nancy Batens
https://www.lacomma.be/wp-content/uploads/2017/05/Logo-Lacomma.png
Nancy Batens
2020-01-08 14:12:48
2020-01-08 15:20:13
#JustDoIt